Deadpool is also known as Wade Wilson is a fictional Marvel character that made its first appearance back in 1991. He is an antihero and got his due share of attention and popularity with his first-ever standalone movie Deadpool in 2016. His character was widely praised by the audiences and they were left asking for more of his story and thrill. He is portrayed on screen by the supremely talented Ryan Reynolds who is not just a great actor but also looks extremely charming on-screen and is super awesome with his style games. On a widespread demand of audiences to bring Deadpool back, the creators at Marvel finally released the sequel to the first film in 2018 Deadpool 2 where people got to know more about the infamous anti-hero and their most recent favorite character. A lot was changed and added to his costume and his style was shown a lot evolved in the second part. He, in the movie, joins X-Men forces to save a young mutant and is seen as an amazingly impactful character. People have been literally drooling over his look and if you are one of those willing to recreate his look, we are here with this guide that includes the smallest detail about the Wade Wilson Deadpool Costume and will help you get dressed like Wade Wilson for sure.
Made out of original spandex material, this Deadpool 2 Wade Wilson Mask is breathable enough to be easily flaunted and put on your face for long. Red and black in color, this mask is exactly similar to what you must have seen Deadpool wearing.
This slim fitted Deadpool 2 Deadpool Jacket is manufactured out of original leather material which is lined inside with viscose to keep you at uttermost comfort and ease. Red and black in color, this signature Deadpool jacket has snap tab collars, full sleeves, buttoned cuffs and a zipped-up front closure.
If you are more comfortable with a hoodie than a jacket, you can still create the look of Deadpool on you as this Deadpool 2 Wade Wilson is here for your rescue. With hooded collars attached to a drawstring, long-length sleeves, smart cuffs, a pullover style, and a beautiful color combination of red and black color, this outwear is here to help you get that exact look for sure.
One of the noticeable features of the iconic Deadpool Costume which is super quirky and unique in its own ways. This belt is easy to carry and is made out of a durable material that will help this belt last longer with you.
These comfy Deadpool 2 Wade Wilson Pants are neatly created out of pure and soft cotton material and are easy fitting. Red and black in color, they are more of casual wear but will still help you pull out the look of Deadpool. 
Deadpool 2 Wade Wilson Sword Backpack
Deadpool is known for his love for swords and he is seen carrying a lot of them for his fights. He carries those swords in a backpack which he hangs on his back. These swords are all made out of stainless steel which makes them durable and are unsharpened to offer you safety and protection.
A look is only complete when shoes are there and since Deadpool has always been different with his looks, his shoes are also different he carries these Wade Wilson Deadpool 2 Boots which are buckled up, and can be adjusted according to one's ease, are exotic black in color and are tough enough to stay with you for long.
Deadpool 2 Ryan Reynolds Holster
You cannot win over your enemy with just swords and that is what Deadpool was completely aware of. Therefore, he was also known to carry some great guns in this iconic Ryan Reynolds Holster which can be attached to your and can easily hold up the weight of a gun.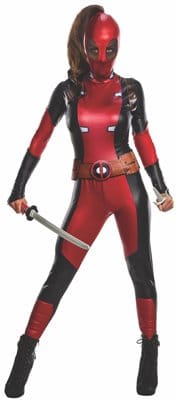 To be a Deadpool fan, there is no compulsion of being a man and you can also be a woman crazily going gaga over the handsome anti-hero Wade Wilson. We respect your adoration for the character and so is for all those women wishing to get into the skin. Slim fitted and in red-black color, this costume is crafted of leather durable enough to sustain many years.
Deadpool 2 Women Swords Backpack
If you are a woman who loves dealing with swords, there is nothing to be shy of because this Deadpool 2 Women Swords Backpack is here to your rescue containing replicas of the actual Deadpool swords of stainless steel and unsharpened to help you with your interest but also keep you safe enough.
Deadpool 2 Women Black Boots


Your recreation of the look of Deadpool will only be complete when you will flaunt it with these stylish Deadpool 2 Women Black Boots which are created of leather and are in a dapper black color that goes well with any outfit on the world. Easy and light weighted to carry, they will give your look a great boost.
Deadpool 2 Kids Costume


For the enthusiastic kids who look up to, we bring this stylish, slim fitted, light weighted, and easy-going Kids 2 Deadpool Costume of leather material and red-black color which is here to bring them the look they are wishing for.
Deadpool 2 Kids Shoes


Whether you are a man, woman or kid, your look will only be completely done when you will put on the shoes. To complete the iconic and exact look of Deadpool, you must choose these comfortably and light weighted Deadpool 2 Kids Shoes which are created out of a soft and smooth fabric, are in a beautiful black color and are easy to put on and remove as well.
Deadpool Logo Letterman Hoodie Jacket
If you simply want to show your affection and that you are a fan of Deadpool via your outfit, you can choose this warm and easy-going Deadpool Logo Letterman Hoodie Jacket which is fabricated out of a premium quality brand of polyester and cotton combined with inner viscose that keeps you comfortable. Blue and red in color and with an iconic Deadpool logo at the front, this jacket has hooded collars, a zipped-up frontage, and two side waist pockets as well.
Deadpool Logo Red Leather Wallet


If you are a crazy Deadpool fan and want to reflect that will all that you do, even with what you carry your money in, you can try this signature Deadpool Logo Red Leather Wallet which is red in color and features a big Deadpool logo at the front. With enough safe and spacious compartments to keep your stuff, this wallet is made of premium leather that is durable enough.
There is another character in the movie portrayed by Ryan Reynolds but without a mask. Following are the details of his signature
Deadpool 2 Ryan Reynolds Red Checkered Jacket
Manufactured out of real and smooth cotton material, this dapper and trendy red checkered jacket is lined inside with white shearling that brings a lot of warmth to you to enjoy with ease. With lapel-style collars,  full sleeves, buttoned cuffs, a zipped-up frontage, and two widely spaced side waist flap pockets, this outwear is complete in all aspects and will give you an exact look of Ryan Reynolds.
Deadpool 2 Ryan Reynolds Black Skinny Jeans


These exotic and durable black skin fitted pants are created of premium quality and 100% pure jeans fabric. With a zipped flyer, a straight look and a buttoned waist, these Deadpool 2 Ryan Reynolds Black Skinny Jeans are a must have especially to get the look of the character.
Ryan Reynolds Round Neck Grey T-shirt


The character wore this Ryan Reynolds Round Neck Grey T-shirt inside the Checkered Jacket and flaunted a fine look. Made of cotton material and half sleeved, this grey shirt is soft and smooth enough has round necks and a pull over style making it a great contrast to that jacket.
Ryan Reynolds Deadpool 2 Black Canvas Shoes

To finally complete his outstanding look, he pairs it with these classy and comfy Ryan Reynolds Deadpool 2 Black Canvas Shoes which are created of canvas fabric are black in color and are amazingly easy to carry without hurting your feet all day long.
Conclusively, Ryan Reynolds as Wade Wilson is an epitome of style and grace that reflects with each of his Deadpool Costume  and every element of his costumes. This undoubtedly proves that he is not just a good anti hero but is also a fantastic person at style and his looks can be easily recreated if his style games are exactly followed.