Loved the Holidate movie? Can't get over Emma's vintage dressing looks? If yes & yes, then you're at the perfect place because we exactly know which vintage look of Emma Roberts to get and how to style it flawlessly! So, without wasting much time, let's get on to the best vintage Emma Roberts Jackets & Coats looks in the Holidate movie! 
Grab the hottest red fur coat to exist! 
If you're aware, a well-stitched sophisticated fur coat can transition your look in just one second! No matter what happens, a fur coat trend will never say bye to the trending fashion charts, and that's a fact. Emma Roberts, aka, Sloane in her recent movie, Holidate stole the limelight by flaunting her mesmerizing look in this red fur coat. She styled it with a white dress underneath, kept her hair sleek & straight, and enchanting round pearl earrings. You can opt for the same look or try something different by pairing this red fur coat with a casual look because there are no rules in fashion besides being confident! 
Forgetting a Shearling Jacket this season? Never gonna happen! 
Shearling jackets are that benefit to the human fashion industry world that only true fashion enthusiasts admire! Spending winters without a flawless shearling trim jacket is just like spending Christmas without Christmas cookies. And who could've better worn this jacket other than the ever-charming Emma Roberts? During the whole movie, she surprised the audience with her alluring vintage dressing styles, and we can't get over this shearling trim jacket look, either. Even by dressing up simply, she nailed this look, and it's a perfect time for you to do the same. 
Vintage theme + Leopard printed coat = most iconic fashion look! 
Vintage dressing without a premium leopard printed coat is merely incomplete, and missing on to this trend amid this winter will be a major fashion sin that you can commit. Thus, it's better to keep your dressing preferences up-to-date and opting for something that can easily steal the limelight whenever, wherever! Emma exhibited multiple fashion moments in her Holidate movie, and selecting only one is just impossible.  She styled this Holidate Sloane Leopard Print Coat.
as simple as she could and still managed to look pretty appealing! Now, that's what we call 'how elite dressing sense works.' 
Learn how to master the vintage plaid fashion trend with Emma Roberts!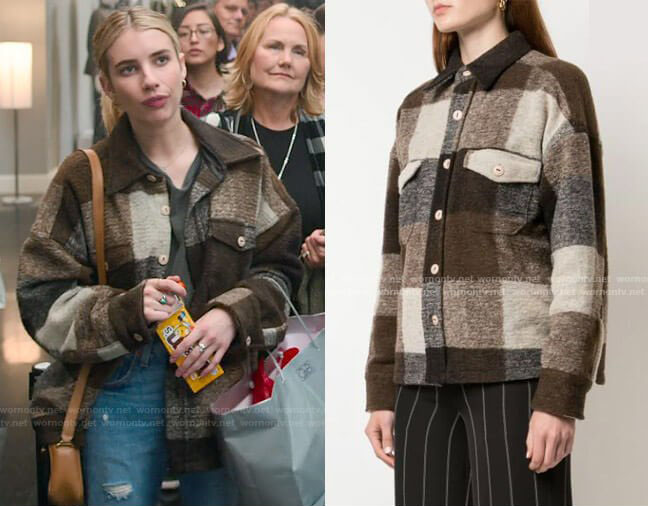 The Plaid trend always gives us major vintage vibes, and styling this fashion can be tacky sometimes as well. But as it's Emma Roberts, we're convinced she can pull off anything! Nowadays, both of her Emma Roberts Holidate Sloane Plaid Jacket and Holidate 2020 Sloane Plaid Coat are trending and have become best-selling trends for all the right reasons. She won over hearts by giving extreme style statements in them plaid patterned coat & jacket. It doesn't matter which one you choose, all you have to do is wear them with panache just like Sloane did, and own the fashion runway!