Finally, the winter season is here, and for real fashion enthusiasts, that can only mean getting the latest seasonal trends that can never let down their alluring fashion style! And luckily, we've got the perfect fashion clothing apparel that is trending top on all the fashion charts! 
The Queen's Gambit is slowly getting the recognition that it deserves, and most significantly, Anya Taylor-Joy's marvelous acting and jaw-dropping outfits. So, without wasting further time, let us get you familiar with the Top 8 most popular The Queen's Gambit Outfits. 
8.
Never say bye to quilted coats by getting Beth Harmon's White Coat! 
Quilted coats always have some endless fashion panache vibe to them that never loses its glam. For centuries, people have been buying the iconic quilted coats effortlessly. Ever since Beth Harmon wore it during her screen time of the series, people couldn't stop talking about it, and eventually, it ended up being town's talk for all the right reasons. 
The coat is designed with cotton fabric, and its basic features include a relishing pink and gray quilted printed exterior, shirt style collar, and front button closure. Beth won's everyone's heart while wearing this after her mother's death by making it a tribute to all the memories that she has with her.  
Apart from grieving, she never lost her charming aura which lures people in to appreciate her fashion dressing sense. So, if this one seems interesting to you, grab it now. 
7. You can never go wrong with a pleasant sweater! 
If you don't know, the winter season's best friend is none other than an elegant cardigan! Yes, Beth made this one look appealing, but even without doing anything, you can always create a memorable look out of a basic sweater! So, if you don't know what to get this season, we highly recommend this graceful sweater that you can wear in multiple styles. 
If we talk about its features in detail, a classic front buttoned closure, simple shirt style collar, rib-knitted cuffs, and attractive light blue color, such wool-blend sweaters are born to be styled! And with a divine fashion taste, you can do anything when it comes to blending fashion styles to create just one stylish look! So, all you have to do is grab this aesthetically pleasing sweater and wear it just the way you want it. 
6. If you're still into sweaters, how about another one?
Sweaters were always classy and will always be like that without an interruption! Plus, the way Anya Taylor-Joy showcased her marvelous the queen's gambit collection of jackets, coats, and sweaters amid the series is just simple perfection! She wore this brown sweater while going through her rough patch, and we always stan a fashion queen who keeps herself up with the fashion standards no matter what happens. That being said, Anya stunned everyone by styling this brown-colored sweater exquisitely. And if you're looking for a similar effect, then don't forget to add this number 6th to your wish lists right away! 
When it comes to styling a cardigan, you can opt for many ways, even Beth's multiple looks in this sweater were stunning, so you can opt for them anytime, anywhere. And, if you have something else in your mind, then you should go for it as fashion is all about exploring the inner you! 
5.
Solid colored coat and a bombastic eye-makeup look is a big yes!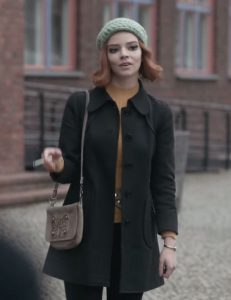 Beth Harmon's evolving fashion dressing sense also includes stunning her look in even a solid-colored coat. Despite going through a rough patch, her fashionable charm never lost its shadow over her, and that's why this look is here in this list. 
This coat consists of simple features like a wool-blend exterior, front buttoned closure, shirt style collar, and edgy black color. However, Beth's remarkable eye-makeup also plays a vital role in enhancing this coat look. Plus, a combination of black and yellow never disappoints! So, take notes and recreate this style by getting yourself this exact coat asap! 
4. Did someone say a white sweater with black jeans combination? 
A solid combination of a white lined pullover sweater with sleek black jeans always tops every other fashion fusion of apparel. Thus, if you're looking for something as classy as black and white fusion, then leave everything else and focus on getting this one as soon as you can! 
Beth Harmon not only competes in chess with amazing brain skills but her alluring fashion taste is also quite fascinating! After seeing her series, almost everyone is inspired to adopt her look, and we've no problem with it! 
3. Pink is the new black! 
If you haven't heard it, black is overrated this season, and people are looking for more colors to fill in their closets with! We absolutely adored Beth Harmon in this pink & cream-colored coat. Not only did she win her chess matches with her insatiable wit, but also she surprised everyone with her remarkable dressing. So, if you're planning to go big in this winter season, we suggest you grab this look no. 3 right now!
She styled it by wearing it with a black turtleneck sweater and skirt underneath, you can easily recreate this and surprise everyone with your stunning dressing! 
2. Vintage checkered coat? Yes, please! 
Who doesn't love a vintage vibe that apparel gives? Thanks to Beth Harmon for making us fall in love with the vintage style all over again! She wore this elegant yet classy checkered coat in the series finale and we loved her major fashion moments in this one. Winning and signing autographs while having your dressing up to the point, only Beth could pull this complete package off! But nothing to worry about as you're only a few clicks away from recreating this similar moment! Get yourself this classic coat now and own the much-needed style statement, asap! 
1. For the love of white! 
We've saved the best one for the last only for the love of white! No doubt, Anya Taylor rocked each of her looks extravagantly. However, this white coat look of her stole everyone's attention in the last scene of the last episode. Along with looking fascinating in this coat, Beth couldn't have found a better way to end her journey of the first season by giving us the last fashion moment that we deserved. Also, designed with a vintage touch, no real fashion enthusiast can refrain from buying this; thus, go and place your orders now!