Samurai Cyberpunk 2077V Bomber Leather Jacket
Cyber punk 2077, a game of the future as mentioned in the title. Based on a sub-genre of science fiction which mainly focuses on the narrative of "Combination of low-life and high tech".
The anticipation of this game has been way up the sky from the fans, all around the world. All the gaming freaks have the idea of how gigantic this game is going to be. The creators have been meticulous about every inch of this game and that is mainly the reason why this game has been in development for more than 5 years.
Right around the corner of June 2019, the developers made the biggest revelation about the game after showcasing the news of Keanu Reeves being a part of the game. He is playing a character named Jhonny. The famous actor has been seen in just a scene of the game so far but is said to play a big role in the game, as big as the secondary protagonist. We'll have to wait a little more to see.
Some photos of the Cyberpunk 2077 Jacket circulated around the internet during the E3 2019. A select few received the item as a gift too, and all the fans around the world went berserk for it. Even before the release, this game has been a winner for the merchandise market. The demand for the products related to Cyberpunk 2077 has been blistering and therefore we have launched our extremely high quality Cyberpunk 2077 Leather Jacket with all the premium feels. Have a look.
Detail Product Specification
The funky looking erected collars made in a way for them to look rugged yet feel premium. Finely stitched, perfect material and the work on it is done with precision. The rugged looking collars from the outside, are worked with perfection from the inside too, by inculcating the viscose lining. The realism of every inch of the attire is the necessity here.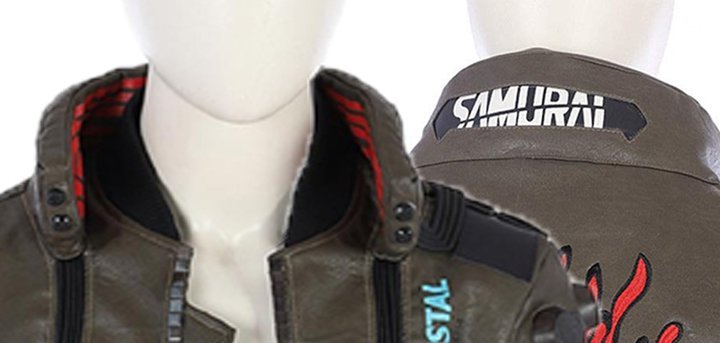 Sleeves of this Cyberpunk 2077 Samurai Jacket are Padded, along with a closed-pocket at the top. With Rib knit Cuffs at the end of the sleeves stitched with perfection for the perfect fit for the arms. , so it can look sleek and fitted both at the same time.
On The forefront of this chic attire is the shiny looking and smoothest of all zipper closure, along with a drawstrings like pattern on the chest area. A high quality American badge-type logo is also their on the top right which makes the look even more striking. The design pattern all over the front of this attire is the creative appeal of this Samurai Jacket.
This badge on the top right of the jacket on the front is quite literally the show-stopper here. All the attention to detail given to this badge for the realism is remarkable, and that is exactly why it is the center of attention of this Cyberpunk 2077 V Leather Jacket.